Beveco is a sister company of AMAG and resellers in the Netherlands.
AMAG Technology's unified Symmetry Security Management System provides advanced security solutions for access control, video management, policy-based identity management and visitor management solutions.
These security systems are installed and designed worldwide for organizations of all sizes - from the largest multinational or government agency to schools and smaller office buildings.
Known for its intelligent yet easy-to-use software, Symmetry delivers the latest technology in a proven, scalable, easy-to-deploy, integrated system that can be managed from one central application.
For more information: www.amag.com
Protect your organization
With Symmetry Access Control, you can decide who goes where and when, while protecting critical areas in your organization. Symmetry is the backbone of your security system, providing a comprehensive overview of your security program, so you can make the right decisions and respond quickly. Respond proactively to threats, lock doors or buildings, and implement predefined workflows so you are always prepared.
Video Management for everyone
The NEW Symmetry CompleteView 20/20 delivers an open, user friendly VMS with simple deployment and scalability for security needs of all sizes. With a newly designed intuitive user interface, it operates as a stand-alone system or as part of a global enterprise integrated with the Symmetry platform for a unified solution. The user friendly, feature rich software offers Dynamic Resolution Scaling (DRS) that automatically scales the video transmission based on viewing window size in the client to minimize bandwidth usage in support of centralized remote monitoring. Symmetry CompleteView 20/20 supports analog, megapixel IP and hybrid designs, and provides a seamless transition from analog to IP cameras protecting your investment.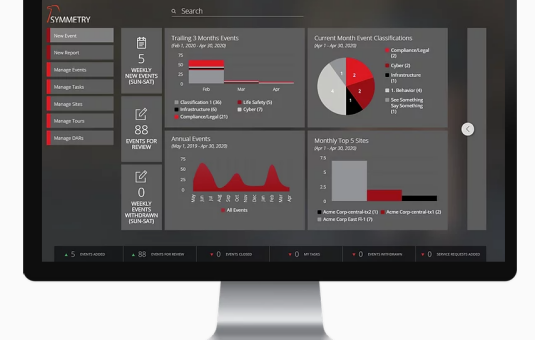 Incident Management
Anything can happen during a working day. Lighting defective, someone slips and falls or the doors remain open. Having a grip on what is happening in your organization helps to reduce risks. By capturing the correct data and establishing consistent workflows that are in line with company policy, companies can investigate and resolve incidents and improve business results.
Visitor Management
Understanding who is entering your building is more important than ever. Manual visitor procedures do not provide the data organizations need to understand who is in their building, how long someone has been in and where they have gone. Technology makes it easy to manage visitor information and help businesses better protect employees, assets and buildings and automate all processes associated with a visitor. Enlist the help of employees to manage visitors while collecting the data needed to comply with regulations. Improve the experience of your visitors and streamline the flow of traffic.
Identity Management
Security is more than managing doors and controlling who has access to those doors. It's about managing identities and the challenges they present. It's about bringing together the different departments involved in managing access and streamlining each of their manual processes so everyone is on the same wavelength and working efficiently.
It goes beyond access control and helps companies simplify their business processes to ensure compliance and save money. Automating boarding, disembarking and access requests streamlines operations, saves time, money and staff, while creating a safer environment. When a company can align its security goals with its operational goals, it generally creates a better business environment.